These Frequently Asked Questions should give you the information you need, check here first.
Then if your question isn't answered here, use the Online Chat 'NEED HELP' in the bottom right corner, to contact us for assistance
Who or What is Mobile DJ Network?
Mobile DJ Network is a network of Mobile DJs who share a common interest in raising their DJ profile and professionalism, through gaining affordable PLI and networking, while gaining more work through our free DJ listing services.
Becoming a member of Mobile DJ Network gives you free DJ PLI as a member benefit, along with other benefits as detailed
Mobile DJ Network and Photobooth Membership are owned by Pete Williams Entertainment Services Ltd - Registered in England. 24 Downsview, Chatham, Kent. ME5 0AP. Company number - 4986409
When do I get my policy documents?
Once you've applied and paid, your policy is INSTANTLY processed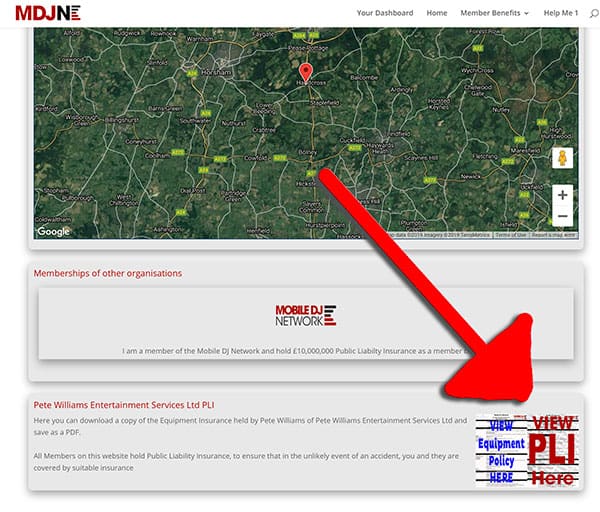 automatically, and therefore available to download or link to straight away!
Once you've paid, just come back to www.mobiledjnetwork.co.uk, login and you should be taken straight to your DASHBOARD (where all your details can be viewed or edited). You will see your membership under ACTIVE, just click that to view, your policy is at the bottom on the right!  We do not email or post your policy
How long does my Membership/ policy last?
Membership is for one full year from the date you pay, and includes PLI & ELI throughout
I can't remember my login details
On the front page where you tried to log in, there are links where you can get a Username reminder and another to reset your password. We recommened you get a reminder of your Username first to make sure you are using the right one
My password isn't working/ password reset code isn't valid
This is usually because you are using the wrong Username. Many people think it's their email address, but it's whatever you chose when you registered. Click the link below the login boxes on the front page to be emailed a reminder of your Username
I requested a password reset, but nothing came through
This normally indicates you have changed your email address. So do check the address you may have been using when you registered with us, and also check junk and spam folders.  Over 20 people per week request a reset, the system does work, but only if the email you gave us was valid and you still have access to it. If your email address has changed, just use Online Chat and we can change that for you
Can I get cover for one day ?
Yes you can, but not through us AND you will pay far more than £55!!  So the answer is to take out our Membership with built in PLI, which covers you for that one day AND the other 364 in the year!
Can I pay with a credit or debit card ?
Yes you can, all our payments go via Stripe in order to automatically activate your membership and insurance.
Can I pay over the phone ?
Sorry, we have no facility to take card payments as this would increase our overheads and then your membership costs.  Paypal will not charge you for using their service, they charge us instead. It's very secure and we do not see or keep any of your financial details
Does it cover my company/ business partner ?
The Membership and therefore Insurance covers ONE person. If you and a partner work together then you only need one Membership/ Policy, if you work at different gigs, then you will need two Memberships/ Policies. The same applies to Companies, Agents, Multi-Ops etc. You will need one Membership/ Policy for each DJ, although you can have the same contact details and logo's across multiple Memberships/ Policies, just contact us for the correct procedure to do this and we'll be happy to help you
Is this proper Public Liability Insurance ?
Yes! The policy covers you for £10 million, includes Employers Liability Insurance and cover for Dry Hire of equipment and is exactly the same type of policy as others are offering, but cheaper !
Who is the underwriter of the PLI ?
The broker is Sharrocks, the Underwriter is Pardus, the Insurer is Accelerant Insurance Europe SA
Why is it so cheap ?
Having automated our system to reduce overheads, and having negotiated a great rate per member, we are able to keep our costs down and pass these savings on through cheaper membership fees.
Why are you doing this ? We recognised that many DJs both want and need Public Liability Insurance to work at an increasing amount of venues As DJs ourselves, we looked for a value for money policy which didn't involve higher costs for things we didn't feel we wanted
Can we contact you to ask questions ?
As we mentioned above, in order to reduce the cost of membership for you, our overheads are kept to a minimum wherever possible.
Our contact telephone number is on this website, but is hard to find deliberately! If we take endless calls answering questions that are already answered on this website, then our costs go up, and so will your membership fee ! We therefore strongly encourage you to look for the answers to any questions you may have here and within the policy document, and if you STILL can't find the answer, then do use the Online Chat or email - admin@mobiledjnetwork.co.uk
Are there exclusions in the policy ?
Yes, just as you would expect with any type of insurance (Car, House, Pet etc.), ours is the same as other DJ PLI policies, and these exclusions are clearly explained within the policy document, do have a read!
Is there an Excess ? Yes, it's £500, the same as all other DJ PLI Policies.
If another member makes a claim, am I affected ?
No, each member is equally covered individually for £10m for each and every claim while a member. Although this a is a block policy covering all our members, the policy applies to you and covers you as a named member/ individual, as though you had your own individual policy
When does the policy end ?
We have bought an annual policy as do other associations and organisations, your membership period is your cover period.
So as long as your membership is paid up and current, you are covered by PLI.
Although our block policy renews on the 11th of October each year, we will already have negotiated the policy for the following year, and this will continue to cover you for the remainder of your membership period.
We are here for the long term, so as long as you remain a member you will be covered.
Can I get a refund if I don't want it anymore ?
Sorry, but that's a no. Because it's insurance based and linked, and an annual policy, no refund is possible